26 Dicembre 2017 News
Save a Christmas Tree
The car industry, in this day and age, is going green. The Car&Vintage® team decided to take this idea very seriously, unveiling its brand new Christmas video on December 22nd.
In it, an unusual supercar steals the spotlight: it's the Verde Abetone Ferrari F40, beloved and hated by many, turning up in its very unique shade of dark green. The car has been officially portrayed for the first time both on film and high-resolution photography. As befit, no half measures. Allied to our wish of saving a Christmas tree, we also wanted to gift the public our dream car by letting it play a major role in the family during the most magical night of the year. This treasured, intimate side of ourselves can now have a hint of another great passion called F40.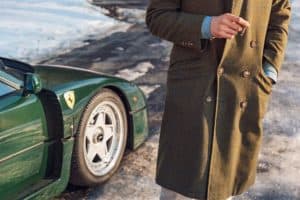 The iconic supercar recently turned 30 years old and, since 1987, has been capable of keeping its technical and aesthetic virtues preserved inhaltered. This Ferrari has always been there, at the top, perfectly incarnating our passion for classic cars and automotive desires. The unique color chosen by the owner, in our opinion a perfect synthesis of style and elegance, can easily relate to the tones Christmas is usually depicted with.
Special thanks to Automobili Amos and its beast of a Queen, for their patience and availability.
Also thank you to Larusmiani and Kidston Motor Cars, for the support.
* * *
Concept: Car&Vintage (@car_vintage)
Video/Editing: The Good Life Studio (@thegoodlifestudio)
Photography: Davide De Martis (@defuntis)
---