Destriero, the Italian word for steed. A 67-metre long, 13-metre wide, 400 ton displacement, aluminum motor yacht built in 1991 by Fincantieri at their Muggiano and Riva Trigoso yards in La Spezia. The whole projet was born from the Aga Khan IV's passion for cutting-edge naval technology, supported by many of Italy's leading industrialists of the time such as Gianni Agnelli, Franco Nobili of IRI, Umberto Nordio of Alitalia, and Arrigo Gattai of CONI.
It was specifically built to cross the Atlantic Ocean in record time of three days and secure the Nastro Azzurro — an unofficial accolade once given to the passenger liner traveling from Europe to America in regular service with the record highest average speed.
In 1992 Destriero crossed the Atlantic twice, without refuelling. Firstly westbound from Tarifa, Spain, to Ambrose Light, New York, and then back.
At 06:14 am and 50 seconds on August 9, 1992, Destriero, flying the yacht Club Costa Smeralda burgee, passed the Bishop Rock lighthouse in England's Scilly Isles. It had left Ambrose Light off New York on August 6 and covered the 3,106 nautical miles in 58 hours, 34 minutes and 50 seconds at an average speed of 53.09 knots.
Destriero was fitted with 3 x GE Aviation LM1600 gas turbines totalling 60,000-horsepower, providing it with a maximum speed of 59 knots,
The record, previously held by the British Hoverspeed catamaran was 3 days, 7 hours and 54 minutes at an average speed of 36.6 knots, was completely smashed.
Despite that, Destriero was denied the Hales Trophy, because it was classed as a private yacht and not a commercial passenger vessel.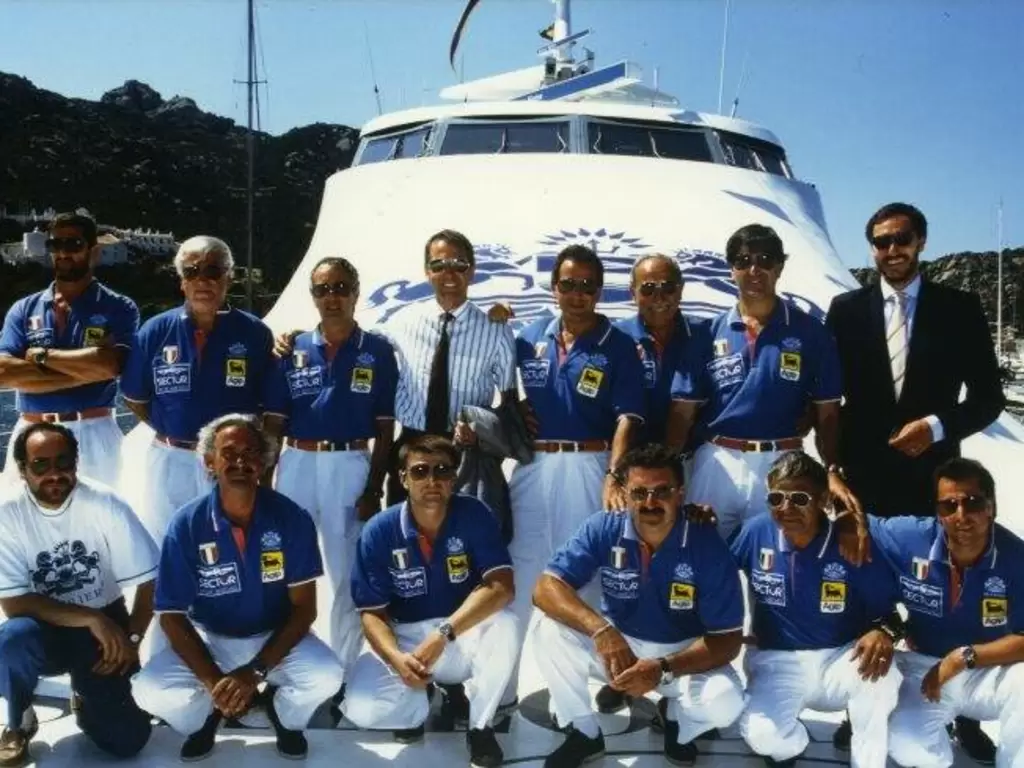 Onboard crew was composed by:
Cesare Fiorio, Destriero Challenge project manager
Odoardo Mancini, captain
Aldo Benedetti, second-in-command
Sergio Simeone, first officer
Franco De Mei, telecommunications officer
Giuseppe Carbonaro, chief machinist
Mario Gando, machinist
Nello Andreoli, machinist
Massimo Robino, electrician
Silvano Federici, engine technician
Cesare Quondamatteo, engine technician
Davide Maccario, technician
Giacomo Petriccione, technician
Michael Hurrle, technician
Destriero did, however, receive the Virgin Atlantic Challenge Trophy, awarded by former record-holder Richard Branson for the fastest crossing by any vessel, and the Columbus Atlantic Trophy sponsored by the Costa Smeralda and New York Yacht Clubs for the fastest trans-Atlantic round-trip.
After its successful runs, the yacht was parked in the HMNB Devonport dockyard, Plymouth, England for ten years. It was then removed in February 2009, and transferred to Lürssen shipyard in Bremen, Germany, where it sadly lays today.