Amongst the 48 beauties of The I.C.E. – International Concours of Elegance – St. Moritz 2023, one happened to be anything but the most valuable Miura on Earth.
Not only we saw the Miura "Millechiodi" on static display as well as being driven around the frozen lake ring, but we also had the chance to browse into its restoration documents provided by Lamborghini Polo Storico through the hands of Alessandro Farmeschi, Lamborghini's Global After Sales Director.
Once upon a time a Miura P400 S, delivered by Bertone on July 12, 1969. Chassis #4302, body #525 painted in Blu Notte. It was road tested and approved on October 31 and left the Sant'Agata Bolognese factor one week later. Delivered on November 17 to Lamborauto in Turin, the Miura eventually changed few Italian owners and eventually got acquired in 1975, after being damaged in a car accident, by Giovanni Sotgiu and Walter Ronchi.
Reporting to the information we collected, the two — having owned the original Bob Wallace's Miura Jota — were looking for a damaged Miura in order to recreate the spirit of the legendary Jota and squeeze it into a perfectly-usable-on-the-road car. The conversation was operated by two former Lamborghini employees also with the help of Italian F1 fixer and former racing driver Franco Galli.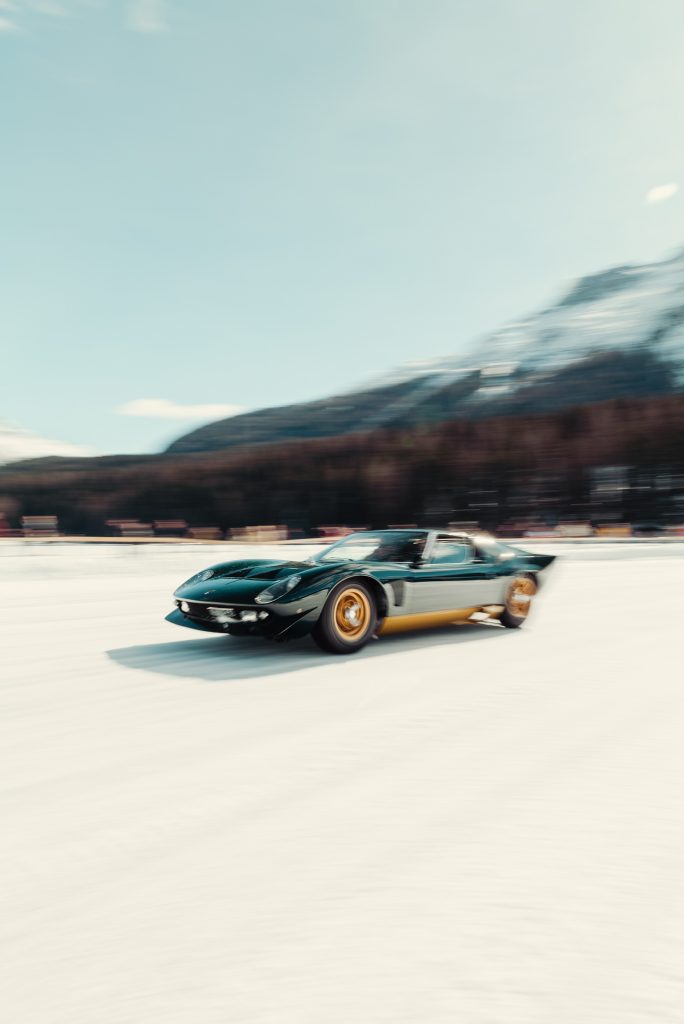 Modifications included a different front section with a large full-width spoiler and Carello headlights behind Plexiglas covers, a Porsche 917-inspired rear end with a more angular top edge and double tail lights. Air outlets and the front edge of the bonnet shows rivets as with the Jota: hence the name of this very unique car. We did not count them all, but the car's name "Millechiodi" let us guess how many rivets have been used around this sleek Verde Scuro-painted body. Its V12 engine features a slightly bigger displacement — 4.1-litre — longer aspiration trumpets without air filter boxes and a free flow exhaust system.
At the time, besides Sotgiu and Ronchi, the car was also used by Galli for some hair-raising drives on Italian Autostrada, and — apparently — once giving actress Brigitte Bardot a lift from or to Milano Linate Airport.
The "Millechiodi" has been fully restored in 2018 and certified by Lamborghini Polo Storico in 2020 with the coveted Certification of Historic Authentication for vehicles modified during their period of use with ascertained history and historical significance.
The difficulty of certification related to this car had to do with its specific 'deviation' from the original specifications. Actually, since these were not just impromptu modifications but specific ones carried out at a very high level and well-defined within a historical period, it would have made no sense to bring it back to how it was when it was new.

Alessandro Farmeschi, Lamborghini's Global After Sales Director