In production from 1962 to 1996, the Aquarama is one of the most famous Carlo Riva's wooded boats. It takes its name from its wraparound windscreen, reminiscence of the Cinerama film format popular in the 1960s. The timing of the Aquarama was fortuitous, because it came out just as the glamorous jet set came on the scene, and the rich and famous were flying about the world looking for toys.
A total of 760+ boats were built, and ended up in the hands of celebs such as Peter Sellers, Prince Rainier of Monaco, Gunther Sachs, Brigitte Bardot, and so on.
Mythological Dolce Vita icon, this one-off model was commissioned in 1967 to Carlo Riva by Ferruccio Lamborghini himself.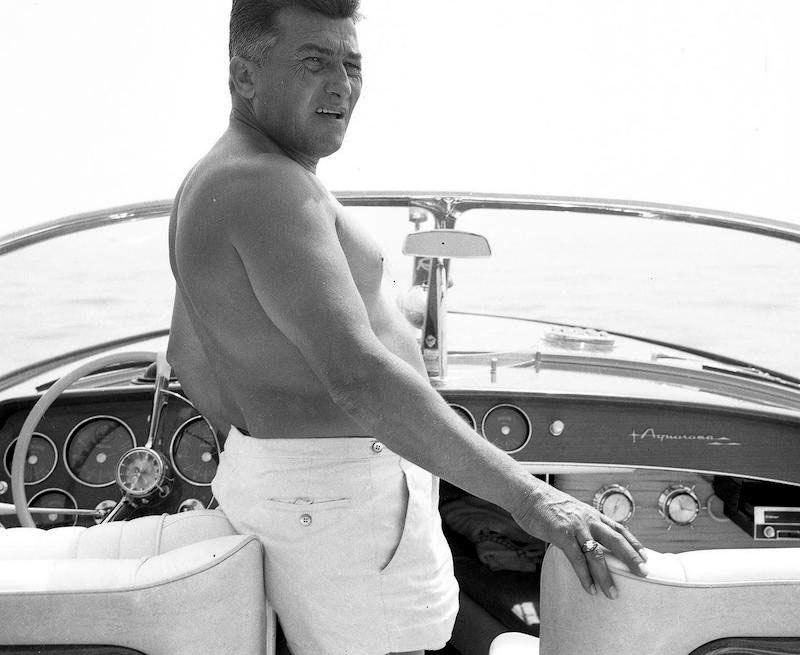 Hull No. 278 was ordered in 1967 by Ferruccio Lamborghini himself, who asked Carlo Riva for a one-off built. 2 x 350 hp 4.0L V12 Sant'Agata Bolognese engines were adapted for marine use and fitted in. The fastest Aquarama of all times was ready, and a legend was born.
Ferruccio was in love with his 48-knots Riva as part of his lifestyle, and kept it for 20 years.
He decided to sell the boat to a close friend in 1988 named, and the new owner decided the two Lamborghini engines needed too much maintenance and replaced the with a couple of Riva-standard V8 units.
Hopefully, the V12s were taken back to the Ferruccio Lamborghini Museum in Dosso di Ferrari: they weren't lost, unlike the Riva itself which literally disappeared in 1993 when the owner passed away.
The Riva was found somewhere in Italy 16 years later, and sent to Netherlands for a complete restoration. Thanks to Lino Morosini — Head of the Riva engine division — and Bob Wallace — Lamborghini's former test driver and developer — the working team adapted a "new" twin-V12 powerhouse, according to the original specimens.
The Aquarama, carefully inspected by Automobili Lamborghini experts and declared a part of the Sant'Agata Bolognese-brand's history, is now part of the impressive Riva collection of Bellini Nautica on Lake Iseo.