The boat world was pleasantly shocked in 2015 by the 142 meters-long A, the largest private sail-assisted motor yacht world has ever seen. The vessel is a sail-assisted motor yacht built by Nobiskrug in Kiel, Germany; a collaboration between Philippe Stack and Doelker + Voges took care of the exterior design and interiors.
Sailing Yacht A's propulsion consists of a variable-speed hybrid powerplant with two lineshaft controllable-pitch propellers, sail-assisted by a three-mast fore-and-aft sailing rig. Mechanical power is sourced by 2 x MTU 20V 4000 M73L lineshaft diesel engines working alongside 4 x 2,800 kW electric generators driving 2 x Vacon lineshaft motors. Power is transmitted by a superimposable/clutched transmission controlled by DEIF A/ S systems, so the vessel is moved by diesel engines or by electric motors or by a combination of both. The same electric motors can also be used as economical shaft generators when the main engines are driving the yacht.

The freestanding carbon fiber rotating masts — the biggest on Earth — were manufactured by Magma Structures at Trafalgar Wharf, Portsmouth. Doyle Sailmakers provided the three fully automated carbon fiber/taffeta full roach sails and the furling booms were built in Valencia by Future Fibres, The rigging was partially developed to be implemented on cargo ships and to be used for commercial use.

GLY developed the yacht's glass, including the longest piece of curved glass ever made: a 15 meters bulwark forward on the bridge deck. Two other huge glass bulwarks are found on deck seven, at 11 meters in length, and forward of the owner's deck, at 14 meters long. GLY also supplied three elliptical-shaped pieces for the underwater observation pod that is moulded into the keel. By using special GLY-MarineCobond interlayers during lamination, the company reduced the glass thickness and weight by 50% compared to typical windows. Meeting Lloyd's requirements that the underwater windows had to be tested at ten times the working pressure took a bit of ingenuity. GLY built a steel tank and bolted on the observation pod windows then moved this assembly to Bodensee on the southern border of Germany and sunk it to the bottom of a 120 meters-deep hole to create the adequate pressures. The 30 centimeters-thick windows passed the test.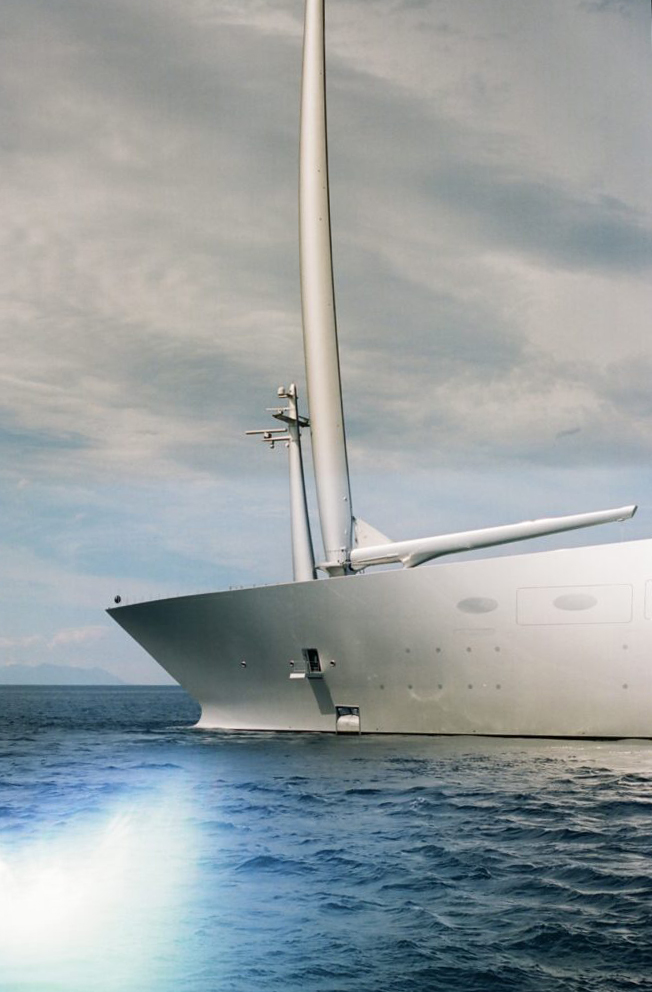 Sailing Yacht A was delivered to its owner — Russian billionaire, industrialist and philanthropist Andrey Melnichenko — on February 3, 2017, and left Kiel two days later. It exited the Baltic Sea in light mode on near-empty fuel tanks in order to clear the Drogden Strait with minimum draught. It underwent final sea trials and the final fit-out at the Navantia shipyard in Cartagena, Spain.
"The boundary pushing superyacht." — Boat International