Pronti, via. We are almost approaching Tunisia Desert Challenge's starting line, and it's time to present our new project. We teamed up with CountrysideWays and TAG Heuer for a thrilling African adventure, not only as media partners documenting every single moment of race action, because our founder Alberto Vassallo will also wear a Sabelt racing suit, being Agostino Rizzardi's race co-driver here and at the upcoming Dakar Classic 2022.
For this occasion Agostino's/CountrysideWays' Porsche 911 (964) desert car has been hand-painted with a street art-styled livery created by BorromeodeSilva: these will not be the official color scheme for the Saudi Arabian event, but just a temporary bodywork made for this #RoadToDakar announcement.
Graffiti art became popular in the 80s and early 90s, then with their popularity and legitimization they reached a commercialization level, ADVs and all. Said so, street art never properly ended up on racing cars, always fixed in their geometric and symmetrical colors. Following the Milan-based studio's design suggestions, master Marco Riper designed this disruptive livery which tones and details will mutate kilometer after kilometer, dune after dune.
Countrysideways' 1991 964 Carrera 4 has been almost entirely modified at his home garage: its 5-speed manual gearbox and its flat-6 engined, upgraded in order to perform on long distance hi-temp runs, are the only parts kept from the original car. The team took many inspirations from the 953, the official Porsche 911 variant that won the 1984 Paris-Dakar driven by René Metge and Dominique Lemoyne.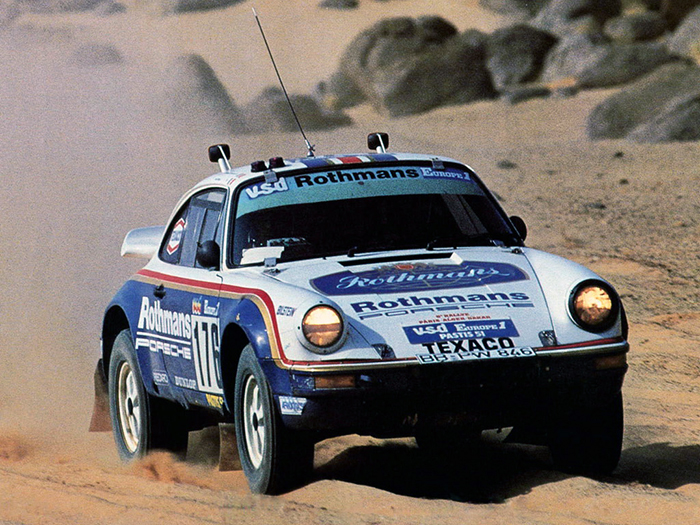 The chassis has been completely strengthen and lighten, gifted with a roll cage and a 9 mm stainless steel plate preventing accidental damages. An 80 + 80 liters tanks provide fuel to the car's 300+ horsepower. Tires are 35" BFGoodrich All-Terrain T/A KDR2 — same as the ones MINI won the Dakar three times in a row with; behind them, 4 double wishbone suspensions and 4 couples of adjustable Reiger shock absorbers with separated oil tanks.
A couple of racing seats with Sabelt five points safety belts, a double handbrake, two differential controllers — central and rear, they can be locked to 100% — a fire extinguisher and an air compressor — useful to re-inflate tires deflated on sand dunes — complete the interior.
Tunisia Desert Challenge will take place from Nov 5 to 13. It will be a 2.500 km raid, split in 8 stages from coast to coast with, of course, a lot of sand in the middle. Last but not least, the whole project will always be surrounded by soundtracks arranged by Kavinsky, whose new single from the upcoming album Reborn will debut on Nov 19.

Follow and support us!