The unstoppable progress of contemporary society aim to satisfy our constant hunger for technology, comfort, and ease of use. In the automotive field this process led to the dispersion of the purest feeling that made the car world great back in the days: the driving pleasure, unfiltered by modern electronics. On the other hand, in what is now a restricted league of extraordinary men, the need of authentic and tangible sensations took to a fundamental acknowledgement: the soul of analogue is fundamental when it comes to prove ourself we are emotion-filled human beings. A back-to-the-roots sentiment has been one of the strongest forces to start Officine Fioravanti's first adventure. The project, revealed during the exclusive "80s Are Back" event at the Port of La Spezia, is the result of the combination between Italian engineers and artisans with the legendary Swiss precision. A unique car, chosen for its timeless visual impact. A car that raises the bar of restomods making them join the next level.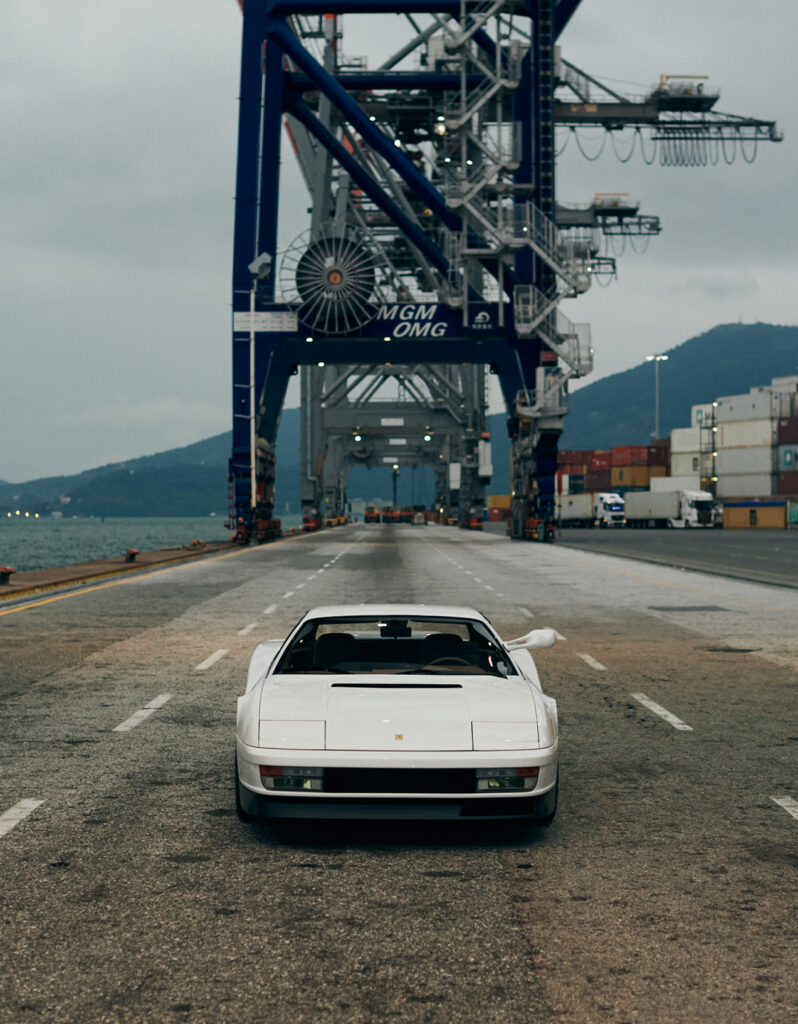 Officine Fioravanti completed an intense program of non-conservative restoration on a white Testarossa Monospecchio and Monodado, one of the greatest automotive icons in motoring history. The distinctive lines penned by Pininfarina and the technical spec of the original Testarossa project, presented for the first time during the 1984 Paris Motor Show, have been reinterpreted and updated, playing with the most advanced technology available today. This is not about restoration and customization, we are now talking about weighted qualitative upgrades, something the Officine Fioravanti's team team defined as 'automotive neoclassicism'. To them, respect for traditions, innovation and customers' satisfaction is mandatory. It's a revolutionary approach for the now trendy restomod sector, a modus operandi able to preserve the DNA of a classic car cult on today's roads cult without changing their appearance nor radically modifying its dynamic and technical peculiarities.
The original aesthetic heritage of the Testarossa and its magnificent presence are still there, but every single detail has been enhanced, offering driving performance that be compared to nowadays supercars. Without any idiosyncrasy: carbon fibre was not that popular in the Eighties, so there is no trace of it in this A level restomod.
Suspensions have been replaced with Ohlins electronically adjustable shock absorbers and now there's a 70mm front lift system at your disposal. Front and rear 6-position adjustable Officine Fioravanti anti-roll bars complete the section.
New 17" front and 18" rear, in-house designed wheels have been fitted. Lighter and cleaner than the Testarossa's original 16" rims, they now can mount high performance sports tires, significantly increasing handling and safety in all conditions.
The Testarossa by Officine Fioravanti features the 4.9L 12 cylinders V masterpiece whose power has been increased from 390 to 510 horsepower at 9,000 rpm with 600 Nm of torque, thanks to severals interventions operated to its injection, start system, distribution, air intake and exhaust. The latter boasts Inconel manifolds and titanium sections equipped with dual mode valves. Two different maps – original and restomodded – are available and selectable anytime.
Brakes have been replaced with Brembo discs – with 6 pot calipers at the front and 4 at the back – with a 12-position trimmable ABS and traction control systems.
The car totals 130 kg overall weight less and it now reaches 323 km/h in full power.
Future clients will be involved in every single aspect of the production process, granting an immersive ownership experience since day one. They will have the chance customize any detail step by step: from colours and material's choice to driving dynamics personalized set-ups.
Interiors have been updated and upgraded with Italian-made fine leathers; aluminum elements substituted cockpit original plastics. The Testarossa by Officine Fioravanti now offers an high definition audio system, USB-C plug, Apple Car play, an hand-made luggage and a 80s style mobile phone able to directly connect with your latest smartphone device.
Officine Fioravanti delivers a supercar that mixes the rare privilege of enjoy all the charm of a true classic icon, with contemporary performance and safety standards. A proper journey through history and time, where present marry a Testarossa making this timeless supercar a futuristic version of its past being.