Mr. Claudio Zampolli, founder of Automobili Cizeta, has passed away at the age of 82, and he will be missed. He wanted to create his own exotic super sportscar, and he did it. The Cizeta V16T still is one of the most outrageous supercars ever made, even compared to late 80s and early 90s 300+ km/h automotive galaxy contenders.
Automotive engineer and test driver, Zampolli was part of Bob Wallace's team during Miura P400 to P400S's development. "This was quite an educational period of time," he said. "At Lamborghini, not only I was developing and testing: I had to listen to all customers' complaints about reliability, and mechanics complaints about how difficult the cars were to work on." All of these lessons quickly went into Zampolli's flow.
I was a test and development engineer at Lamborghini, but I wanted to run my own show, so I decided to go to America.
.After seven years in Sant'Agata Bolognese facilities, he crossed the Atlantic Ocean, helping Lamborghini to develop a network of dealerships. When the business relationship with the Italian brand finished, dyed-in-the-wool petrolhead Zampolli put his intimate knowledge of supercars to good use, setting up is own exotic car dealership on Wilshire Boulevard, Los Angeles: he sold and serviced Lamborghinis, Ferraris and other Italian beauties.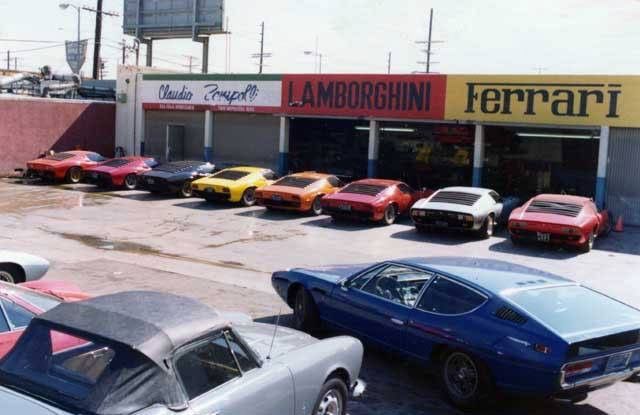 Some say he introduced his customers Sammy Hagar and Eddie Van Halen to each other after Van Halen's split with David Lee Roth.
One day he met Giorgio Moroder – worldwide famous dj/producer/italodisco pioneer – who took his Countach for a service at Zampolli's garage. In the mid 80s, he began thinking about producing his own supercar and Moroder joined (he would have left the venture in 1990, realizing the project was a bit too 'ambitious').
Zampolli conceptualized the first ever transverse V16 block engine while his former colleague Marcello Gandini – who penned the Diablo almost at the same time – designed the supercar exterior.
The only people who knew about the car were the craftsmen working on the prototype. It was such a big secret that even my family, who had to put up with my frequent trips to Italy. When the mock-up was ready, I suddenly said that I was launching a 16-cylinder sportscar. Even the Italian press did not know anything about it!
So why 16-cylinders? If the car had 12-cylinders, it would have not been such big news.
As a small and exclusive car maker, I had to be different," Zampolli explained. "16 cylinders is very exotic, and the engine is strong and torquey. It is also very docile. You can drive around town in 4th gear. It is like driving an auto.
The first white pearl-livered prototype – built by Giancarlo Guerra, Ernesto Barbolini and Luca Schiavi – was unveiled in December 1988 at the Century Plaza Hotel in Beverly Hills, then exhibited at the LA Auto Show and Geneva Motor Show. Zampolli could not believe the positive reception they got: amongst the attendants, 167 people were interested in the car and from those, fourteen signed for a $100k deposit in order to get one. Zampolli was ecstatic at having made $1.4M in one weekend, but even more thrilled to have the chance to build his dream car.
The Cizeta V16T cost approximately USD 650k in 1991: almost the double compared to an F40 price tag and surely not the amount of money car collectors would have spent for a brand they never heard of. Even if Zampolli's supercar was featuring air-con, leather seats, radio and power steering.
Although predictions for production foresaw one car per month, only 12 examples (apparently) + 1 prototype were actually built from 1991 until the company went bankruptcy in 1994. Zampolli then moved its operation to Los Angeles, California, in 1995. determined to finish the production. Subsequently, two more cars were completed – one coupé and one spyder called TTJ – in 1999 and 2003.
Accusations of fraud, followed by lawsuits, dogged the builder for the rest of his days.
If you compare us with Bugatti, the concepts are diametrically different. I am building a simple car, they are doing it the most difficult way. Cars like the Porsche 959 are really over-complex. Sporty, elegant, simple: these are our watchwords

If you want a luxury car, you buy a Mercedes. It is as simple as that. Other supercars have electric everything. We do have a good air-con system, but we preferred to keep useless gadgets out."
Minimalism is certainly evident in the plush leather trimmed cabin. Where there is normally a plethora of gadgets and instruments in such cars, here there is only a big tachometer and speedometer to look at. Other functions like water temperature and oil pressure are taken care of by idiot lights.
"People don't look at gauges, so I decided to make things easier: everything is in front of you, like a racing car. I love old Ferraris and they were like this."